Mike was recently talking about his school being the "
red-headed stepchild
" of his district. I have certainly been in that position---and it ain't fun---but it almost seems worse to be have a school within the district which firmly believes that one of its purposes is to crap on everyone else. And better yet, we should like it and agree with them that said crap doesn't stink, because hey, they're the
Pretty High School
.
The pretty school has been on Newsweek's Top 500 high school list. It has had fairly good WASL scores at 10th grade, but currently, the other high school in the district matches PHS in Reading and outpaces them in Writing. Their science data are below. Notice a trend? Hmmm...PHS is the one school in the district which consistently refuses to engage in any professional development with me and will
interfere with district initiatives
whenever possible. Their science scores are better than the other school, but the gap is definitely closing and the other school is stronger in some of the strands of testing.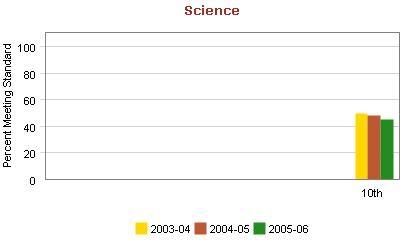 Last spring, secondary principals in the district (at the request of many on their staves) agreed to set aside four dates of common planning time for teachers to have district-wide subject area meetings. When I met with science folks in August, I handed them a list of the dates and a plan for the year.
Pretty High School is unhappy. Why, the first meeting is the same date as their Open House and they always get to have that time to prepare. Their principal screwed up and as a result, the entire district is being held hostage because they don't want to participate. Other principals don't want to move the date because agreements are agreements. The fact is, Boss Lady 2.0 could mandate teachers attend the meetings---it is contract time and it was determined to specifically be used for subject-are meetings. The Union has even said that she can do this. I'm not convinced that she should have to clean up the mess on this one. Seems to me the principal needs to tell his staff what the expectations are. Currently, this nonsense has taken up four days of time to sort out...and it still isn't settled. My guess is that some departments from PHS just won't show up for the meetings. If so, they won't be provided with any resources. Too bad.
The entire district was treated today to PHS's opinion about this inocuous e-mail: "Flex Plan Open Enrollment Meeting Reminder; Tuesday, September 19; Board Room 4:00 - 5:00; A representative of Flex-Plan Services, the District's administrator for our Health Care and Dependent Card Flexible Spending Accounts, will be available to answer your questions about the plan, the extended grace period, and the new Benny Card option."
Here is the response a member of PHS sent to the entire district as a reply to the e-mail: "We did not have this kind of disconnect with Central Administration in the past, at least to my knowledge. Perhaps more training on staff communications needs might be warranted. I received the notice too late for me to change my schedule." Hello? Do 1700 people need to read this?
Perhaps I'm not the only one tired of PHS. Even though it clogged the inboxes of everyone, two people in the district were kind enough to reply. "In our building, we received substantial packets (via our personal mail boxes) with all pertinent information. I don't recall the exact date, but we have had notice for some time now" and "I have known about it via a letter sent home and an e-mail for about a month now."
Pretty High School needs to understand that it is, indeed, part of this district. If they don't choose to participate, then they certainly don't need to make the rest of us suffer in the process.
Whew. Rant over. :)
Tomorrow, I'll talk about my glorious day with the kindergarten teachers...and my celebration with a fifth grade teacher.