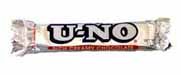 Image Credit Unknown
In my early days in this district, there was a principal who loved to use "U-No" bars as a way to recognize teachers for something positive that had occurred (as in "You Know What to Do!").
Now, it's your turn. Head on over to
this week's Carnival of Education
, once again ably and delightfully hosted by the Education Wonks.
Come on---U-No what to do!